Contributed by Huskies Organizing With Labor (HOWL)
---
Today, Northeastern food service workers make $21,462 per year on average, while President Aoun and other administrators take home six and seven figure salaries.
In April of 2012, 299 Northeastern food service workers voted to form a union under UNITE HERE Local 26. In the years preceding unionization, dining workers had been facing a dire situation: dreadful pay (around $10/hour) and repressive working conditions, including harassment and intimidation of workers, as well as arbitrary and xenophobic punishments for infractions such as speaking their native languages. As workers organized to form a union and address these issues, students from 45 student organizations formed Huskies Organizing With Labor (HOWL) to support them. Students raised awareness about the need for a union, calling on NU administration to alleviate anti-union pressure on workers and remain neutral and accountable, as labor law requires, throughout the process.
Conditions improved after the first union contract – including wage increases, reversal of unfair policies, and successful termination of abusive managers – but there are still many improvements to be made.
Today, Northeastern food service workers make $21,462 per year on average [1], while President Aoun and other administrators take home six and seven figure salaries [2]. This is a glaring inequality, especially in light of the university's stated mission to "create and translate knowledge to meet global and societal needs." A failure to meet workers' basic economic needs is a failure of Northeastern's basic mission.
As the first union contract expires this year, in August 2017, workers are asking for minimum yearly incomes of $35,000, more affordable healthcare, and better protections for immigrant workers.
With a $693 million endowment and a president who makes roughly $1 million a year, Northeastern has both the power and the funds to allow the subcontractor, Chartwells (owned by the multinational Compass Group), to treat and pay workers fairly. However, securing these upcoming contract negotiations will call for overwhelming student solidarity – to show the administration that worker issues are student issues.
Dining hall staff work for a subcontractor hired by Northeastern University, and it will be university administration who will need to be moved. Students have much more leverage with the administration than workers do. HOWL follows the example of student organizers who have successfully amplified the concerns and demands of workers by building student-worker power (for one example, see "HUDS on strike" below).
Dining hall workers form an indispensable part of our campus community. If you believe in fair pay and the guarantee of respect and dignity in the workplace, we hope you will join HOWL for this crucial campaign. Northeastern will throw some incredible experiences and opportunities your way, and as you make your way through your first year eating Steast cookies and Stwest stir-fry, perhaps noticing some frustrating discrepancies on how Northeastern spends its money, consider coming out to Huskies Organizing with Labor's meetings and actions.  Together we can assert our voices in the face of a corporate university administration, in solidarity with workers - on campus and elsewhere - building power against corporate interests.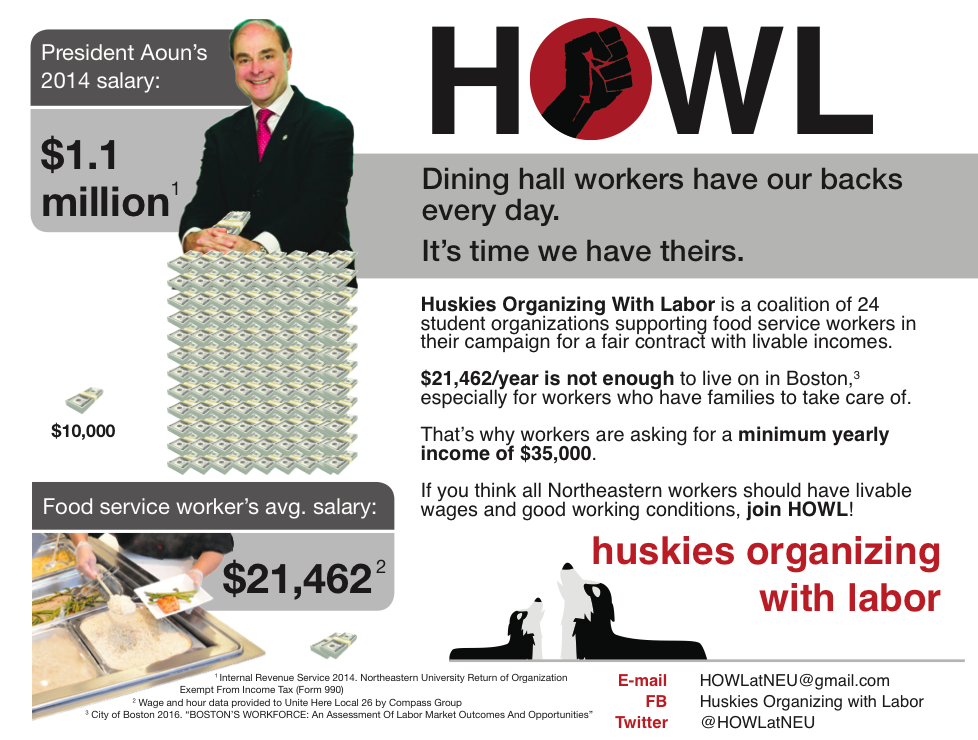 [1] Wage and hour data provided to Unite Here Local 26 by Compass Group
[2] Internal Revenue Service 2014. Northeastern University Return of Organization Exempt From Income Tax (Form 990)
---
HUDS on strike
Harvard University Dining Services workers, also members of UNITE HERE Local 26, led a campaign demanding better pay and a more affordable healthcare plan. They had to strike for 22 days before Harvard would meet their demands – while workers organized massive rallies and demonstrations of civil disobedience, Harvard's Student Labor Action Movement (SLAM) built pressure against the administration by writing op-eds, organizing two huge walkouts, and holding a sit-in during the final negotiating session. In the end, Harvard agreed to pay full-time workers at least $35,000 and not raise healthcare costs, in a milestone for food service worker contracts.
---
To get involved with HOWL, check out our Facebook page or e-mail us at HOWLatNEU@gmail.com!